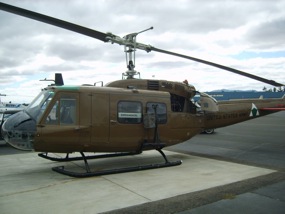 EMU 309 Overview
As our first project, we decided to recreate EMU 309 (tail # 68-16309), a typical UH-1H slick. Initially, we hoped to locate an actual veteran 135th slick to bring up to airworthy condition. Unfortunately, this proved untenable.
We then decided to recreate a representative EMU slick from whatever UH-1H could be reasonably located and purchased. That aircraft turned out to be 65-09870, which was in marginally flyable condition and had very good component times. It was purchased from the Sacramento Sheriff's Office which received it from the Army in 1996. Locating this helicopter at a reasonable price was crucial to our project.
---
EMU 309
309's longevity in the 135th can be placed in better perspective when compared to some statistics for other aircraft in the unit. The average EMU aircraft served about 830 flight hours and 9 months in the unit before being shot down, shot up or crashed to the extent it needed to be sent out of the unit for major repairs or simply written off.

Of the 147 aircraft that served with the 135th in Vietnam, about 40 served less than four months in the unit before coming to an untimely end and only about 40 lasted over a year. Of the 31 aircraft originally brought to Vietnam with the 135th, not one survived until the unit stood down 52 months later. Such was the war in Vietnam for the 135th AHC and most other Assault Helicopter Companies.

309 served as a standard slick in the 1st Platoon of the 135th for her entire Vietnam career (from Bearcat to Dong Tam to Di An). She participated in the Cambodian invasion in May, 1970 as well as most all other important actions in which the 135th was involved while she was in the unit.

In February, 1970, Mark Jenewein, a 1st Platoon doorgunner, was killed in 309 during a combat assault in Kien Hoa Province. Although Geoff and Peter arrived in the 135th after Mark was killed, the memory of his death lingered on, especially for Geoff, who was literally Mark's replacement down to being issued his weapons, nomex1, boots and bunk in the 1st Platoon. Although many other EMU's and TAIPAN's were killed before and after Mark, his death in 309 adds a poignant historical touch to our selection of that aircraft.

309 has a good photographic record. Because 309 was crewed by Peter Olesko for a lengthy period and because Peter is an extremely good amateur photographer, we have a photograph of just about every rivet of 309 as well as many good photographs taken from her. This is very important for preparing a visual history of the aircraft as well as aiding in recreating her accurately.

On a personal note, in early 1971, 309 was shot down near Tra Vinh during a combat assault while Peter Olesko was crewing her. Geoff Carr happened to be crewing the slick (69-16132) that extracted Peter and the rest of his crew. Although shot through the fuel cells, 309 was repaired and returned to service with the 1st Platoon.

Peter was 309's assigned crewchief for over 9 months in 1970-71. Geoff Carr also had the opportunity to crew her on many occasions during the 15 months he was in to the 1st Platoon. Scott Mowery, who produced the EMU INC. website, was also 309's assigned crewchief in 1970. We all remember 309 fondly as one of the few aircraft that lasted as long as we did!