On November 8, 2012 the EMU, Inc. Huey team made the local noon news on CBS while flying in support of a event to honor members of the U.S. Coast Guard who served in Vietnam during the war. We were honored to participate in an event that acknowledged a little known part of the Vietnam war. Here is the link to the news clip that aired yesterday. Our thanks go out the Coast Guard for inviting us to participate in this rare and historic event.
---
In Memory of the 37 members of the 135th who, in a controversial war never fully understood, gave the last full measure of devotion to
"Get The Bloody Job Done"
"Hey Joe" by Jimi Hendrix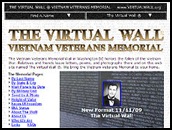 The Virtual Wall opened on March 23, 1997 to honor the American women and men who died in the Vietnam War. They provide friends and relatives of those casualties the means to ensure that the man or woman will not be forgotten. The Virtual Wall has memorial pages honoring the 58,261 women and men who are named on "The Wall", the Vietnam Veterans Memorial in Washington, DC, USA; those military persons who gave the "ultimate sacrifice" for their country.
Click on the names below to view individual pages
on the Virtual Wall and other pages for RAN veterans.
---